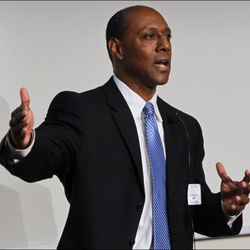 Head Coach Dwayne Bray

This is Dwayne Bray's 20th season coaching youth basketball and ninth season as an AAU head coach. He has coach in California, Ohio, Texas and Connecticut. After a half dozen years coaching Rec and Travel basketball, he started coaching AAU on the girls side in 1999. Coach Bray's 11U Dayton (Ohio) Lady Hoopstars won their pool at the 2000 AAU Nationals. In the pool championship game, they won a 4-point game against a team from Jefferson City, Missouri that included Maya Moore. In 2002 in Texas, Coach Bray started his own girls AAU team called the Dallas Storm. In 2004, the Storm won its pool at Nationals and tied for 17th. His star player, Andrea Riley, went on to be a first-round draft pick of the Los Angeles Sparks. Coach Bray began coaching in Connecticut in 2008, as a boys and girls coach at St. Brigid School in West Hartford. In 2011, he joined the Connecticut NorthStars as a boys coach and has built one of the strongest teams in the state. In 2012, his 6th grade NorthStars team qualified for the AAU Nationals. In 2013, his team finished third in the Division I state tournament. Coach Bray runs a high-intense, full-court pressure on defense. On offense, he focuses on his players' skills development in the areas of shooting, ball handling and rebounding.
---
The CT Northstars want to say "Thank You" to all of our coaches and their families.Without the hard work from them everyday and the sacrifices their families make we could not be successful. It's this effort from everyone that will make us stand out above everyone else.